What Mr. Korndörfer delivered from the beginning was quite a show. His hands and feet seemed to be everywhere at once. The changes of keyboards and presets went on at a breathtaking speed... The result was an absolute orgy of complicated movements, brilliant pedal technique, and a well-selected array of registration choices.
EarRelevant (11/2021)
Korndörfer...is a virtuoso in the grand Romantic tradition, plumbing the depths of demanding repertoire with no trace of empty display, rather creating performances that are deeply musically satisfying as well as exciting.
The American Organist (06/2020)
From the thunderous opening moments of a rumbling, Bach-like G minor chord to the more playful Allegro movements, Korndörfer intuited and conveyed the enmeshed aspects of Poulenc's duofold musical personality.
EarRelevant (2/2020)
This was music made by a master musician with a superb command of musical styles, firmly-rhythmic drive, and intimate knowledge of organ registrations appropriate to the music being performed.
CVNC: An Online Arts Journal in North Carolina (01/2019)
Superb Performance Presented by Dr. Jens Korndörfer...The effective centerpiece of the transcriptions was Dr. Korndörfer's own stunning transcription of the Andante con moto movement of the Beethoven Symphony No. 5, Op. 67...Anyone who missed this performance missed one of the outstanding recitals of the season.
Desert Wind (05/2016)
Mit einem fulminanten Orgelkonzert begeisterte der deutsche Organist Jens Korndörfer im Dom zu Speyer...Es war also die Ausarbeitung und klanglicher Färbung unterschiedlicher Stimmungen und Satztypen gefragt. Und in dieser Kunst erwies sich Korndörfer als absoluter Meister, der die Möglichkeiten der großen Domorgel in puncto Klangfarben und Dynamik voll ausschöpfte.
Die Rheinpfalz (08/2020)
Colorful and exciting playing … three wonderful transcriptions … stunning encore.
ORGAN Canada (03/2013)
Johann Sebastian Bach's Triosonata in E flat Major [was] highly sensitive chamber music, dance-like, flowing, and sparkling.
Saarbrücker Zeitung (09/2013)
Jens Korndoerfer delivered a brilliant performance of French organ music … The scope of the highly impressive program was terrific …
Nordbayerischer Kurier (01/2012)
A prodigious technician, [Korndoerfer] produced audacious effects in The Offering, the last one of '12 Etudes for Small Organ' by William Albright.
La Presse (11/2011)
Effortless and poetic playing, the music is constantly alive.
Susan Landale (01/2014)
His concert thrilled the audience.
Mixtures, (05/2013)
Latest News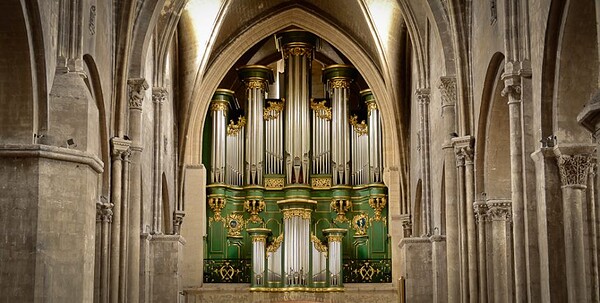 21 March 2022
Return to Summer Festival in Bordeaux, France
I am very excited to return to Bordeaux's 'Festival Orgues d'été' for two concerts this August.
Latest Recording
Coming soon: Franck & Widor
Organum Classics
César Franck - Trois Chorals
Charles-Marie Widor - Symphonie VI, Op. 42, No. 2
1888 Cavaillé-Coll organ (III/71) Basilica of Saint Sernin in Toulouse, France
Recorded in November 2021
02 July 2022
Reger - Fantasie und Fuge über BACH, Op. 46