Festmusik Max Regers übertrifft alle Erwartungen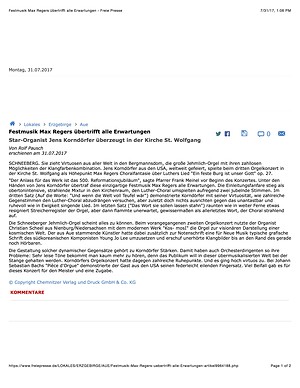 Star-Organist Jens Korndörfer convinces in St. Wolfgang
Jens Korndörfer from the USA, who is celebrated worldwide, played the third organ concert in St. Wolfgang. The highlight of his concert was Max Reger's choral fantasy on Luther's hymn "Ein feste Burg ist unser Gott", op. 27.
In the hands of Jens Korndörfer this unique festive composition of Reger surpassed all expectations. The opening fanfare soared in the nave as a brilliant Mixture, with the Luther choral surrounded by two exiting, jubilatory voices. In the third movement (with the text: "And if the world were full of devils") Korndörfer demonstrated with his virtuosity how numerous counterparts attempt to derail Luther's choral, but eventually are incapable to overpower against the invulnerable hymn, that sings peacefully as if resting in eternity. The strings of the organ murmur almost wearily as if from far way in the last verse ("The word they shall not touch"), but then suddenly the hymn flares up triumphantly, as the last and final word.
[...]
The creation of such dynamic contrasts is one of Korndörfer's strengths. Korndörfer's organ concert offered numerous points of rest, but it was also highly virtuosic. Much applause for the master's concert and an encore.
Rolf Pausch

Freie Presse