Organ Concerto mingles two sides of Poulenc's musical personality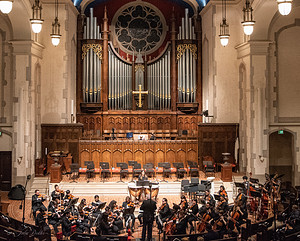 The critic Claude Rostand famously described composer Francis Poulenc as "one half monk, one half naughty boy." It's a conceptual construction that has more or less stuck. There is Poulenc, the light-hearted and playful trickster of sparkling works like the 1932 Concerto for Two Pianos, and then there is the solemn, dramatic and serious religious seeker of the Mass in G and Dialogues des Carmélites. Felicitously, both personae became simultaneously apparent at a performance of the composer's Concerto for Organ, Timpani and Strings in G minor, Op. 36, this past Thursday evening at First Presbyterian Church of Atlanta.
Organist Jens Korndörfer performed the work under the baton of conductor Michael Palmer with the Georgia State University Symphony Orchestra. From the thunderous opening moments of a rumbling, Bach-like G minor chord to the more playful Allegro movements, Korndörfer intuited and conveyed the enmeshed aspects of Poulenc's duofold musical personality. Organ, strings, and timpani make for an unusual arrangement. In the work's seven seamless movements, performed without pauses between, Poulenc both highlights the incompatibility of the instruments, emphasizing the distance between them, and, as in the fifth movement, eases them together as pure sound, as they seem to become a natural, organic fit.
The refurbished Möller/Zimmer pipe organ at Atlanta's First Presbyterian Church can sound lush and pew-rattlingly forceful when called upon, but Korndörfer also used Polenc's piece to explore the instrument's many varied capabilities. (For Korndörfer, who oversaw the restoration, the amelioration and the performance itself were both interlinked labors of love.) High, isolated, reedy passages sounded especially fine, and with pipes all around the church, segments seemed to emerge, almost comically, from the back of the hall. The religious feeling could be almost Gothic and sinister, however, underscored by the serious, almost belligerent punctuation of the timpani. Loveliest of all were moments of slower pace, when an eerie spaciousness came out, a call and response repeating bits of melody between the strings and the organ. The piece might otherwise easily come across as a mere showpiece for the organ, but Korndörfer graciously and intuitively left room for the strings to emerge as a set of independent voices.
Poluenc's pieces may often appear to split between the irreconcilable aspects of his persona, the avant-garde farceur and the later stately religious seeker, but the evening revealed how coherently interwoven the roles could actually be. The musicians managed to create a lively dialogue between organ and strings, ranging from the facetious and impish to the strikingly sincere and introspective. The featured work sat rather fittingly in the middle of a program that began with the lively and comically succinct Intermezzo from the Karelia Suite by Sibelius and the hefty Symphony No. 5 in D Major by Mendelssohn.
Andrew Alexander

EarRelevant