New Video: Puccini's 'Donde lieta' with Maria Valdes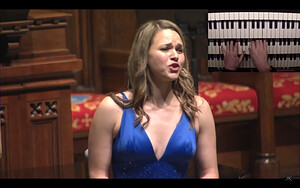 14 November 2020
I adore opera, especially Verdi & Puccini - unfortunately, neither of them has written anything significant for the organ...
So I was super excited about the opportunity to arrange Donde lieta from Boheme for organ and perform it with the amazing Maria Valdes!
Our Klais/Schlueter organ (IV/112) at First Presbyterian Church of Atlanta is the perfect instrument for this kind of repertoire, as we have all the colors Puccini demanded in the orchestral score, and thanks to our Syndyne control system with pedal divide and some reprogramming of certain stops, I can play everything exactly as needed.
This video is an excerpt from last Sunday's Chamber Music Showcase concert - enjoy!