Organ Studies at Georgia State University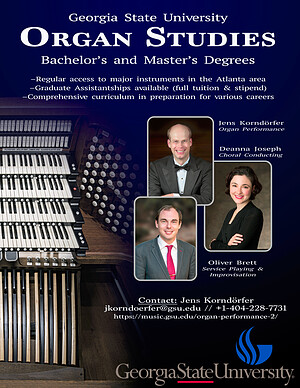 25 November 2020
Interested in undergraduate or graduate studies in organ?
At the moment we are recruiting students for our Bachelor's and Master's degree programs in Organ at Georgia State University.
Outstanding Instruments
Lessons are taking place on the outstanding tracker and electro-pneumatic action organs at Peachtree Road United Methodist Church (Mander, IV/135) and First Presbyterian Church of Atlanta (Klais/Schlueter, IV/112, and Klop, II/14). Students have regular access to those instruments and other fine organs in one of the many churches in Atlanta.
Comprehensive Curriculum
The curriculum prepares students for a career in church and concert and includes classes in organ performance (Dr. Jens Korndörfer), service playing and improvisation (Oliver Brett), choral conducting (Dr. Deanna Joseph) and harpsichord.
Graduate Assistantships
Graduate assistant ships in collaboration with local churches provide free tuition, a generous stipend, and first-rate immersion into the day-to-day work of large music ministries.
More Information
More information on the program (including audition requirements and dates) can be found here.
Contact
If you know of anyone who might be interested in applying, I am happy to hear from you. Please feel free to give the prospective student my email address and/or phone number.
+1-404-228-7731 (O)
jkorndoerfer@gsu.edu
www.jenskorndoerfer.com