Bye, bye 2020 & Welcome 2021!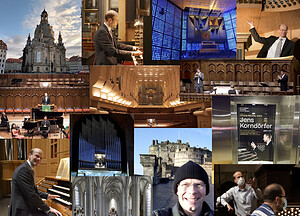 31 December 2020
2020 was not an easy year, but looking back, I am deeply grateful for so many things:
At FPC Atlanta, we were able to make wonderful live music safely in worship (with the exception of only two pre-recorded Sundays early on) and concerts throughout the entire year; we even added chamber music concerts with many amazing colleagues from the Atlanta area, and reached thousands around the world via our livestream. Once people were allowed back in the sanctuary, it was incredibly powerful to see their joy at worshipping in person and hearing live music again;
As planned, I went on concert tour in Europe three times, twice since March: even though it was really difficult and sometimes a complete nightmare to comply with the ever changing requirements & regulations (Julia can tell you all about that...), it meant so much to me to be able to travel and perform on some truly outstanding instruments; also, 2020 began with my debut at Davies Symphony Hall in San Francisco: they had offered me two dates, one in January, the other one at the end of March, fortunately I picked the earlier date...
At GSU, we were able to resume in-person private lessons and studio class in the fall term, after switching to online teaching in the spring; technology is amazing, but being able to interact with the students directly is so helpful, and sometimes irreplaceable when it comes to teaching - especially an instrument with the frequency range of the organ.
Adjusting to so many unexpected developments was a true challenge, but in the midst of all the difficulties, there were also many new opportunities, discoveries & friendships that presented themselves...
Click here for
Here's to 2021 and the return of full sanctuaries & concert halls!