Audition Prep Workshop Video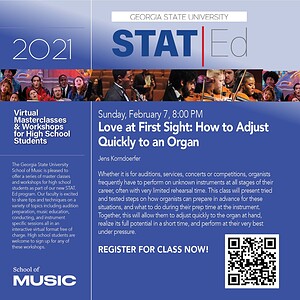 08 February 2021
Love at First Sight - How to Adjust Quickly to an Organ
Whether it is for auditions, services, concerts or competitions, organists frequently have to perform on unknown instruments at all stages of their career, often with very limited rehearsal time.
This video presents tried and tested steps on how organists can prepare in advance for these situations, and what to do during their prep time at the instrument.
Together, this will allow them to adjust quickly to the organ at hand, realize its full potential in a short time, and perform at their very best under pressure.
Questions or Comments? Contact me at jkorndoerfer@gsu.edu or (+1)404-228-7731
For more information on the GSU organ program click here: https://music.gsu.edu/organ-performance-2/