Franz Liszt and Johann Gottlob Töpfer: A Fruitful Relationship in Weimar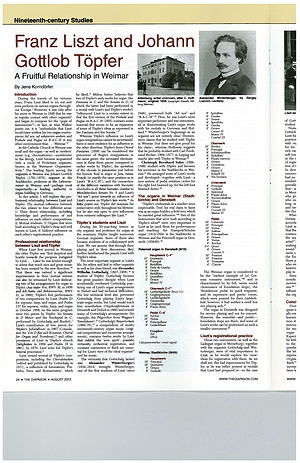 Introduction During the travels of his virtuoso years, Franz Liszt liked to try out and even perform on various organs throughout Europe. However, it was only after his move to Weimar in 1848 that he was in regular contact with other organists and began to compose for the "pope of instruments" – in fact, as Alan Walker points out, it is "unthinkable that Liszt would have written his two organ masterpieces 'Ad nos, ad salutarem undam' and Prelude and Fugue on 'B-A-C-H' in any other environment than [...] Weimar."
As the Catholic Church in Weimar was small and the organ – as well as 'modern' music (e.g. chromaticism) – unwelcome in the liturgy, Liszt became acquainted with a circle of Protestant organists, known as the 'Weimarer Organistenkreis'. The leading figure among the organists in Weimar was Johann Gottlob Töpfer (1791-1870), organist at the Stadtkirche, professor at the 'Lehrerseminar' in Weimar and – perhaps most importantly - a leading authority in organ building in Germany.
In the following paper, I will explore the professional relationship between Liszt and Töpfer. The mutual influence between the two relates to four different areas:
Their direct relationship, including knowledge and peformance of and influence on each other's compositions;
Mutual students;
Organs that were built according to Töpfer's ideas and well-known to Liszt;
Indirect influence on each other's registrational practice.
The Diapason (August 2013): 24f.